Desert Rats vs Afrika Korps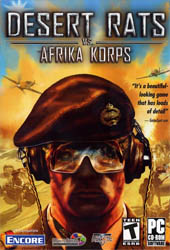 Minimum:
OS
: Windows 98/2000/ME/XP
DirectX
: 9
Processor
: 1GHz (Single Core)
RAM
: 256MB
Video
: 32MB
Jump To Should Run On

Recommended:
OS: Windows 98/2000/ME/XP
DirectX: 9
Processor: 1.4GHz (Single Core)
RAM: 512MB
Video: 64MB


Release Date:
31 March 2004
Links: Demo
Description
A real-time tactical game boasting single and multiplayer modes, Desert Rats vs. Afrika Korps immerses you into the explosive campaigns that took place in North Africa during World War II. Set across two campaigns and twenty missions, you take the role of either friend or foe as you follow the fascinating destinies of an English and a German hero who were once friends and who are now constrained to fight each other in this "war without hate".
Missions range from reconnaissance operations in the desert and urban flush-out missions to large-scale sieges of desert fortresses. Each mission starts with a briefing and a recap of the historical background to the ensuing battle. More than 30 units can be allocated to each side, selected in the army management system. These include 8 specialised soldier types - rifleman, scout, machine gunner, medic, engineer, flamethrower, sniper, grenade launcher - and 7 categories of vehicles - recon, tank, anti-tank, artillery, anti-air artillery, transport, air support.
Highly realistic graphics, full 3D game-play and stunning sound effects allow for the highest level of combat realism and varied combat tactics. The fully flexible AI system, which can be controlled manually, allows the player to set his army units to hold position in defense mode or to patrol large zones and canyons when on the attack. A pause feature gives the player time to think tactics over before setting them in motion.
Media
Should Run On