DarkStar One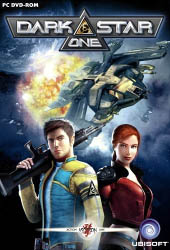 Minimum:
OS
: Windows 2000
DirectX
: 9
Processor
: 1.6GHz (Single Core)
RAM
: 512MB
Hard Drive
: 6.5GB
Video
: 128MB
Shader
: 1.1
Jump To Should Run On

Recommended:
OS: Windows XP
DirectX: 9.0c
Processor: 2.6GHz (Single Core)
RAM: 1GB
Hard Drive: 7GB
Video: 256MB
Shader: 3.0


Release Date:
16 June 2006
Links: Official Site Demo
Description
In a universe of chaos, the unknown awaits. The situation in the galaxy is precariously balanced. With Thul border skirmishes increasing, another galactic war seems all but inevitable.
At the helm of the DarkStar One, a killer spaceship designed around alien technology, Kayron Jarvis embarks on a flight of truth, vengeance and discovery.
The secrets inside the DarkStar One are essential to realising Kayron's destiny. Hunting down and confronting his father's murderer is soon to prove more costly than ever imagined...
Media
Should Run On