Crysis: Warhead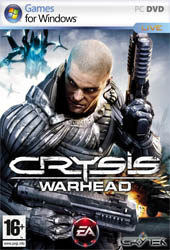 Minimum:
OS
: Windows XP/Vista
DirectX
: 9.0c
Processor
: 3.2GHz (Single Core)
RAM
: 1GB(XP), 1.5GB(Vista)
Hard Drive
: 15GB
Video
: 256MB
Jump To Should Run On

Recommended:
OS: Windows XP/Vista
DirectX: 9.0c
Processor: 2.2GHz (Duel Core)
RAM: 2GB
Hard Drive: 15GB
Video: 512MB


Release Date:
16 September 2008
Links: Official Site
Description
The following description was taken from Here
Take on the fight as the volatile Sergeant "Psycho" Sykes in a new parallel story taking place during the events of Crysis. Psycho's secret mission will take him to the other side of the island on a ruthless pursuit of a North Korean general hell-bent on obtaining powerful technology. With the versatile powers of his Nanosuit and an arsenal of fully customizable weapons & vehicles at his disposal, Sykes will do whatever it takes to carry out his top-secret objective. Action on the other side of the island is more intense, the battles are fierce, and the mission protocol is no longer "Adapt to Survive". As Sergeant Sykes, now you must adapt to dominate the battle. Twin SMG's blazing, seizing new vehicles, or going stealth, the action and the victory is on your terms.
Media
Should Run On
See Also
Crysis: Warhead
Crysis 2
Crysis 3