Condemned: Criminal Origins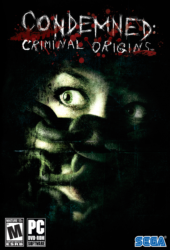 Minimum:
OS
: Windows 2000/XP/Vista
DirectX
: 9
Processor
: 2GHz (Single Core)
RAM
: 512MB
Hard Drive
: 8GB
Video
: 128MB
Jump To Should Run On

Recommended:
OS: Windows 2000/XP/Vista
DirectX: 9
Processor: 2.4Ghz (Single Core)
RAM: 768MB
Hard Drive: 8GB
Video: 256MB


Release Date:
11 April 2006
Description
A cunning and ruthless killer is taunting authorities with a series of grisly murders. As FBI agent Ethan Thomson, your investigation will pit you against the most violent side of humanity as you unravel clues left by the killer.
Stay alive using any weapon you can from firearms to lead pipes to whatever you can pry from the fully interactive environment.
Unprecedented high-definition graphics and meticulously crafted 5.1 surround sound plunge you into a world of violent crime.
Use sophisticated forensic tools to investigate crime scenes and uncover evidence in this intense one-of-a-kind psychological thriller.
Should Run On
See Also
Condemned: Criminal Origins