Command & Conquer 4: Tiberian Twilight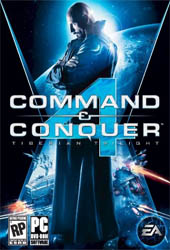 Minimum:
OS
: Windows XP/Vista/7
DirectX
: 9
Processor
: 2.6GHz (Duel Core)
RAM
: 1GB(XP), 1.5GB(Vista/7)
Hard Drive
: 10GB
Video
: 256MB
Shader
: 3.0
Jump To Should Run On

Recommended:
OS: Windows XP/Vista/7
DirectX: 9
Processor: 2.6GHz (Duel Core)
RAM: 2GB
Hard Drive: 10GB
Video: 256MB
Shader: 3.0


Release Date:
16 March 2010
Links: Official Site
Description
The following description was taken from Here
In the year 2062, humanity found itself on the brink of extinction. Tiberium, the mysterious, alien crystalline structure that infested Earth for decades and caused years of relentless conflict between the Global Defense Initiative (GDI) and the Brotherhood of Nod, was close to rendering the planet uninhabitable. In the midst of this crisis, Kane, Nod's prophetic leader, emerged from seclusion to deliver GDI the message that he had developed a system that could control Tiberium and harness its power. But he could not build this "Tiberium Control Network" without GDI's cooperation. Thus, the two opposing factions—GDI and Nod—found themselves in a desperate and unlikely alliance to stop Tiberium from extinguishing mankind.
Now, after 15 years, the network is nearly complete. Tiberium is under strict control and our revitalized planet is on the cusp of a new age of prosperity and progress. It is only now that the world's citizens begin to seriously ponder why Kane chose to help, and what he will want in return. These questions and more lead to the dramatic final act of the 15-year Tiberium saga in Command & Conquer 4 Tiberian Twilight.
Kane. GDI. Nod. Tiberium. How will it end? Find out in Command & Conquer 4 Tiberian Twilight, told through gritty live-action cinematics, persistent player progression, and a multitude of innovations to the classic fast and fluid Command & Conquer gameplay.
Media
Should Run On
See Also
Command & Conquer
Command & Conquer: The Covert Operations
Command & Conquer: Red Alert
Command & Conquer: Red Alert - Counterstrike
Command & Conquer: Red Alert - The Aftermath
Command & Conquer: Tiberian Sun
Command & Conquer: Tiberian Sun - Firestorm
Command & Conquer: Red Alert 2 - Yuri's Revenge
Command & Conquer: Generals
Command & Conquer: Generals - Zero Hour
Command & Conquer 3: Kanes Wrath
Command & Conquer: Red Alert 3 - Uprising
Command & Conquer 4: Tiberian Twilight
Command & Conquer: Generals 2