Combat Arms
(Free To Play)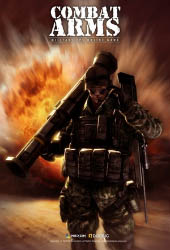 Minimum:
OS
: Windows 2000
DirectX
: 9.0c
Processor
: 1GHz (Single Core)
RAM
: 256MB
Hard Drive
: 2GB
Video
: 32MB
Jump To Should Run On

Recommended:
OS: Windows XP
DirectX: 9.0c
Processor: 2.4GHz (Single Core)
RAM: 512MB
Hard Drive: 2GB
Video: 128MB


Release Date:
11 July 2008
Links: Official European Site Official North American Site
Description
The following description was taken from Here
Prepare to drop into an ever-changing theater of conflict, where you are in control of your gameplay, from your fully customizable character, to your lethal arsenal of weapons to the scenarios you want to experiece. Experience fierce battles online with up to 15 of your friends (and enemies) in dense jungles, frozen tundras, insustrial wastelands, and more!
Grab your gear and get ready for battle...
Media
Should Run On