Call of Duty: United Offensive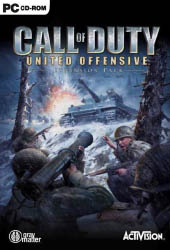 Minimum:
OS
: Windows 98/2000/ME/XP
DirectX
: 9
Processor
: 800MHz (Single Core)
RAM
: 128MB
Hard Drive
: 1.1GB
Video
: 32MB
Jump To Should Run On

Release Date:
14 September 2004
Links: Official Site Demo
Description
In the War that Changed the World rages on. Fight in tanks, jeeps, motorcycles, even a bomber. Work with your squad through snow and rain, using new weapons including flamethrowers and deployable machine guns, or by calling in artillery strikes.
Should Run On
See Also
Call of Duty: United Offensive
Call of Duty 2
Call of Duty 3
Call of Duty 4: Modern Warfare
Call of Duty: World at War
Call of Duty: Black Ops
Call of Duty: Modern Warfare 3
Call of Duty: Black Ops 2