Borderlands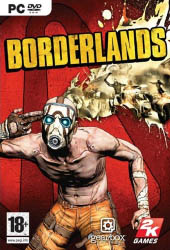 Minimum:
OS
: Windows XP/Vista
DirectX
: 9.0c
Processor
: 2.4GHz (Single Core)
RAM
: 1GB(XP), 2GB(Vista)
Hard Drive
: 8GB
Video
: 256MB
Jump To Should Run On

Release Date:
20 October 2009
Links: Official Site
Description
The following description was taken from Here
Borderlands is an original First Person Role Playing Shooter that combines the intuitive reward systems of action role playing games and the frantic-paced shooting combat of first person shooters. The game features a groundbreaking content generation system allowing for near-endless variety in weapons and item drops. Borderlands allows for 4 players to share the same game experience simultaneously online in co-op gameplay. Players can freely join or leave each other's games at anytime, or choose to play in the full single-player mode. These features, along with a rich and deep fiction that touches upon the mysteries buried beneath the surface of a danger-filled planet, combine to form a breakthrough experience that challenges the conventions of modern shooters.
Media
Should Run On
See Also