Booster Trooper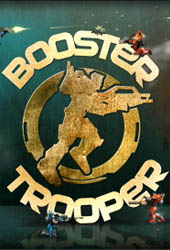 Minimum:
OS
: Windows XP/Vista/7
DirectX
: 9.0c
Processor
: 2GHz (Duel Core)
RAM
: 2GB
Hard Drive
: 800MB
Video
: 512MB
Shader
: 3.0
Jump To Should Run On

Release Date:
16 April 2010
Links: Official Site
Description
The following description was taken from Here
Booster Trooper is a cross between an old school 'Jetpack Platformer' and the modern, arena based, multiplayer game. It provides tons of fun with its fast paced action and larger-than-life weapons. You can run or fly around the map, blasting your enemies to bits with bullets, rockets, grenades, magma and other weapons from your arsenal.
Whether you play it against the bots or a live player, Booster Trooper will constantly keep you on the edge! Rankings, co-operation, tactics and split second decisions will deliver hours and hours of online multiplayer entertainment!
Media
Should Run On