Blood Rayne 2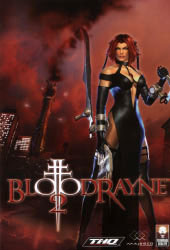 Minimum:
OS
: Windows 98/2000/XP
DirectX
: 8.1
Processor
: 1GHz (Single Core)
RAM
: 256MB
Hard Drive
: 500MB
Video
: 32MB
Jump To Should Run On

Release Date:
12 October 2004
Links: Official Site Demo
Description
BloodRayne the sexy Dhampir (Half-Vampire, Half-Human), is on the hunt again. But now, she's stalking her own flash and blood through a city under siege. Her malicious siblings have united to create a new era of Vampire supremacy. Only Rayne stands between an unsuspecting Humanity and a horrifying Vampire dawn.
Should Run On
See Also