Bioshock Infinite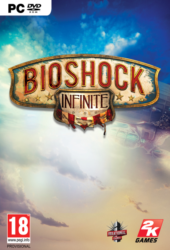 Minimum:
OS
: Windows Vista
DirectX
: 10
Processor
: 2.4Ghz (Duel Core)
RAM
: 2GB
Hard Drive
: 20GB
Video
: 512MB
Jump To Should Run On

Recommended:
OS: Windows 7
DirectX: 11
Processor: 2Ghz (Quad Core)
RAM: 4GB
Hard Drive: 30GB
Video: 1GB


Release Date:
26 March 2013
Links: Official Site
Description
The following description was taken from Here
Set in 1912, players assume the role of former Pinkerton agent Booker DeWitt, sent to the flying city of Columbia on a rescue mission. His target? Elizabeth, imprisoned since childhood. During their daring escape, Booker and Elizabeth form a powerful bond -- one that lets Booker augment his own abilities with her world-altering control over the environment. Together, they fight from high-speed Sky-Lines, in the streets and houses of Columbia, on giant zeppelins, and in the clouds, all while learning to harness an expanding arsenal of weapons and abilities, and immersing players in a story that is not only steeped in profound thrills and surprises, but also invests its characters.
Media
Should Run On

GeForce 9

GeForce 100

GeForce 200

GeForce 300

GeForce 400

GeForce 500

GeForce 600

GeForce 700

GeForce 900

Radeon R700

Radeon Evergreen

Radeon Northern Islands

Radeon Southern Islands
See Also