Battlestar Galactica Online
(Free To Play)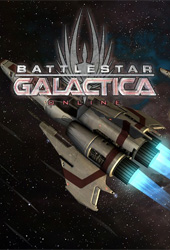 Minimum:
OS
: Windows XP/Vista/7
DirectX
: 9.0c
Processor
: 2GHz (Single Core)
RAM
: 512MB
Hard Drive
: 1GB
Video
: 128MB
Shader
: 2.0
Jump To Should Run On

Recommended:
OS: Windows XP/Vista/7
DirectX: 9.0c
Processor: 2.3GHz (Duel Core)
RAM: 2GB
Hard Drive: 1GB
Video: 512MB
Shader: 2.0


Release Date:
8 Febuary 2011
Links: Official Site
Description
The following description was taken from Here
In Battlestar Galactic Online, both the Colonial and Cylon fleets find themselves stranded in an unexplored area of space at the very edge of one of the galactic arms. Heavily damaged and critically low on resources, both fleets race against time to repair and rearm, struggling for control of systems rich in Tylium, metals and water. The Colonial fleet desperately searches for a way to escape and continue the search for Earth before the Cylons gain enough strength to destroy them once and for all.
Media
Should Run On