Baldur's Gate 2: Throne of Bhaal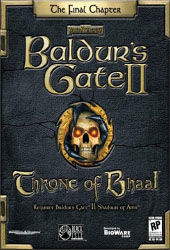 Minimum:
OS
: Windows 95/98/ME/2000
DirectX
: 3
Processor
: 233MHz (Single Core)
RAM
: 32MB
Hard Drive
: 325MB
Video
: 4
Jump To Should Run On

Recommended:
OS: Windows 95/98/ME/2000
DirectX: 7
Processor: 400MHz (Single Core)
RAM: 64MB
Hard Drive: 560MB
Video: 8MB


Release Date:
21 June 2001
Description
The road lies open before you. It is forever twisting and turning, leading you through the darkest unknowns, to the heights of glory. Yet as a Child of Bhaal, your path is inescapably clear to you - it has already been prophesized. From your humble beginnings in Candlekeep, to the dungeons of Durlag's Tower, and through the lands of Amn, your dark heritage has relentlessly shadowed you. Now it is time to grasp the destiny that is yours and enter into a war amidst the other Children of Bhaal which rages across the lands of Tethyr. Your road has once again veered towards danger, and you choose your course with caution. But you know that as long as Bhaal's Throne of Blood stands empty, chaos shall reign.
Media
Should Run On
See Also
Baldur's Gate 2: Throne of Bhaal