Aura: Fate of the Ages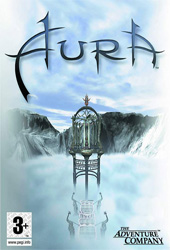 Minimum:
OS
: Windows 98/ME/2000/XP
DirectX
: 8
Processor
: 800MHz (Single Core)
RAM
: 64MB
Hard Drive
: 1.3GB
Video
: 2MB
Jump To Should Run On

Release Date:
29 June 2004
Links: Demo
Description
In unique worlds of illusions and reality, in magical, mechanical and ethereal lands, take on the quest to find the artifacts cleverly concealed throughout the lands. Four parallel worlds await you on your journey: The Ademika Valley - the gateway and the world of secret research and sacred rituals, Dragast - the mechanical world and the kingdom of mountains and snow, Na-Tiexu - the esoteric world of astronomy and magic, and lastly, the beautiful Island of Unity, each with different environments to explore, challenges to encounter and a variety of indigeous puzzles to solve.
Lose yourself in this fantastic and rich adventure, uncover the smallest details, collect important information, solve the enigmas and unravel the saga of intrigue, exploration and treachery that is Aura: Fate of the Ages.
Media
Should Run On
See Also
Aura: Fate of the Ages
Aura 2: The Sacred Rings
Aura 3: Catharsis