ArcaniA: Gothic 4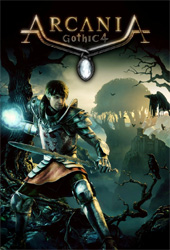 Minimum:
OS
: Windows XP/Vista/7
DirectX
: 9.0c
Processor
: 2.4GHz (Duel Core)
RAM
: 1GB(XP), 1.5GB(Vista/7)
Hard Drive
: 10GB
Video
: 256MB
Jump To Should Run On

Recommended:
OS: Windows XP/Vista/7
DirectX: 9.0c
Processor: 2.8GHz (Duel Core)
RAM: 3GB
Hard Drive: 10GB
Video: 512MB


Release Date:
19 October 2010
Links: Official Site
Description
The following description was taken from Here
ArcaniA: Gothic 4 is set in a rich world that invites the player to explore all of its innumerable attractions and detailed landscapes. Different climate zones, abundant flora and fauna, subterranean vaults, cities and castles with breathtaking architecture await the adventurer. Clouds darken the skies, wind and heavy rain influence the game world; and with its striking graphics, day/night cycles and stunning display of light and shadow, the player will be fascinated endlessly. Masterful scores and sound effects create a truly immersive playing environment, and a multitude of challenging quests filled with tactical combat, along with a captivating plot, guarantee endless hours of highly entertaining gameplay.
The Southern Islands await!
Media
Should Run On
See Also