Air Rivals
(Free To Play)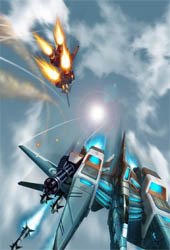 Minimum:
OS
: Windows 98/2000/XP
DirectX
: 9
Processor
: 1GHz (Single Core)
RAM
: 512MB
Hard Drive
: 2GB
Video
: 32MB
Jump To Should Run On

Recommended:
OS: Windows 98/2000/XP
DirectX: 9
Processor: 1.8GHz (Single Core)
RAM: 1GB
Hard Drive: 2GB
Video: 64MB


Release Date:
26 September 2006
Links: Official European Site Official North American Site
Description
The following description was taken from Here
AirRivals is a free-to-play 3D MMOG SciFi flying simulation in which you can steer different airframes through skies and space. Immerse into the diverse landscapes of planet Phillon and conquer the world above. Fight yourself through exciting missions, defend your nation and find comrades for a fight formation. Advance by founding a brigade or winning the election to become a nation's leader.
Media
Should Run On