Aika Online
(Free To Play)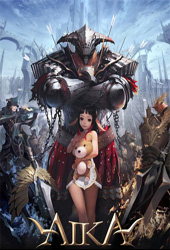 Minimum:
OS
: Windows 2000/XP/Vista/7
DirectX
: 9.0c
Processor
: 1GHz (Single Core)
RAM
: 512MB
Hard Drive
: 1GB
Video
: 128MB
Jump To Should Run On

Recommended:
OS: Windows 2000/XP/Vista/7
DirectX: 9.0c
Processor: 2GHz (Single Core)
RAM: 1GB
Hard Drive: 1GB
Video: 256MB


Release Date:
16 March 2010
Links: Official Site
Description
The following description was taken from Here
Three hundred years have passed and the Humans have prospered upon Lakia, the land of the sky. Trouble lurks across the horizon, however, as both Aika and the Zereca have begun to stir from their repose. The Zereca, although still in a weakened state, have already begun to spread darkness over Arcan in preparation for their full awakening. In response, Aika has commissioned her own chosen emissaries among the Humans–a class known as the Aitan –to protect their race from harm. She has further created Pran, fairy familiars with elemental powers, to aid the Aitan.
And so begins Aika's awakening, and the final war for Arcan...
Media
Should Run On