Agatha Christie: Murder on the Orient Express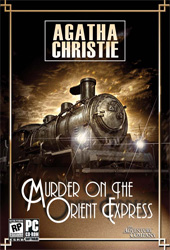 Minimum:
OS
: Windows 2000/XP
DirectX
: 9
Processor
: 1.4 (Single Core)
RAM
: 256MB
Hard Drive
: 1.5GB
Video
: 64MB
Jump To Should Run On

Release Date:
14 November 2006
Description
The world-famous mystery novel Murder on the Orient Express by Agatha Christie, comes alive in this all-new exciting video game adaptation. Murder on the Orient Express is filled with spectacular twists-and-turns and also includes a surprise ending that is different from the original novel.
Aboard the historic Orient Express, as Antoinette, a new character introduced in the game, you must help the famous Belgian detective Hercule Poirot solve the puzzling murder of Mr. Ratchett. Is the victim really who he claimed to be? What motive would any of the passengers have that would bring them to commit this heinous crime?
It's up to YOU to find out!
Media
Should Run On
See Also
Agatha Christie: Murder on the Orient Express